Commitment To Safety

Tesco appreciates the opportunity to present you with this brief introduction to our company which will present our credentials and outline our commitment to maintaining a safe work site.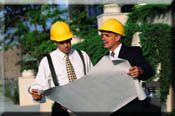 It is Tesco's goal to continually develop, implement and maintain a diversified safety program to mitigate accidents and foster a safe work attitude. We know that the success of any safety program depends on the cooperation of all involved, including management and employees. The management of this firm expects total commitment from each and every employee with regard to health and safety policies and procedures. All Tesco employees understand that they are responsible for working safely.

Tesco is committed to providing and maintaining a safe and healthful work environment in accordance with industry standards and in compliance with legislative requirements. We possess the knowledge and experience to accomplish this task exceeding the exacting standards of public regulatory bodies in a manner that is fiscally responsible.

Tesco is an electrical service, maintenance and general contractor with 19 years of experience in all facets of maintenance and construction.

Our wide range of abilities and work experience ensures that all work is performed with competence to a level of excellence that is our trademark. Tesco is committed to supplying the most competent and qualified personnel available, and utilizing well maintained equipment in safe work conditions. To this end, Tesco is composed of a team of skilled professionals who take pride in management and technical expertise. We will draw on our corporate strength and ability to bring together multi disciplinary teams to form a number of technical specialties to ensure a safe work environment.

Tesco prides itself on having an extensive health and safety program which includes a full employee and site-specific safety manual. This Safety Manual is the foundation of all site-specific safe work procedures and policies. Since Tesco firmly believes that field supervision is an essential component of a well managed project, we involve our supervisors in all aspects of project planning including the development of policies and procedures designed to unsure safe work practices at each individual work site. These safe work procedures will be provided to all Tesco employees as part of their indoctrination, minimizing the likelihood that untrained personnel become part of the site workforce.

Tesco also promotes an excellent working relationship with subcontractors and insists that all subcontractors meet or exceed the high standard of health and safety demonstrated by Tesco Electric. We work on the principle that subcontractors are a prime factor in a project's success and believe that working safely is success in and of itself.